The ZIIP is the OG of beauty technology anytime, anywhere. Developed and designed by acclaimed electrical esthetician Melanie Simon and futuristic engineer David Mason, ZIIP was launched in 2015 as the world's first app-connected beauty device. Today, the ZIIP GX series reigns supreme as a luxury skin care device that uses a highly effective combination of nano and microcurrent technologies to amplify your at-home skin care regimen. Combined with the ZIIP gel (s) containing active ingredients and the new and improved ZIIP app that offers seven comprehensive facials, seven targeted treatments and four treatment plans, the ZIIP GX series is more than worthy of its price tag of $ 495.
A single microcurrent session can cost anywhere from $ 250 to $ 500. With the ZIIP GX Series device in your skincare arsenal, you'll have access to private sessions led by Melanie Simon through the ZIIP app whenever and wherever you want. Is it worth $ 495? You bet. Your skin is the largest living organ in your body. Treat it with the care it deserves by investing in an award-winning device that delivers unmatched beauty technological efficiency and innovation. Also, the sooner you join the ZIIP Hive, the sooner you will use luxurious adjectives to describe how the ZIIP GX series has improved your skin.
ZIIP GX Series Pricing and Availability
The ZIIP GX series is priced at $ 495, which includes a 2.7 fl oz pump bottle of Golden Gel ($ 129 when purchased separately) and the new ZIIP app. That's an average price for this level of skin care technology. The comps are the NuFACE Trinity microcurrent device at $ 339, the FaceGym Pure Lift Face at $ 520 and the TriPollar STOP Vx Gold at $ 850.
Design of the ZIIP GX series
Sporting classic white and trimmed in gold, the ZIIP GX series looks like the fanciest little computer mouse you've ever seen. The ZIIP logo is embossed in the gold border. The power button is flush and at the top center, surrounded by gold.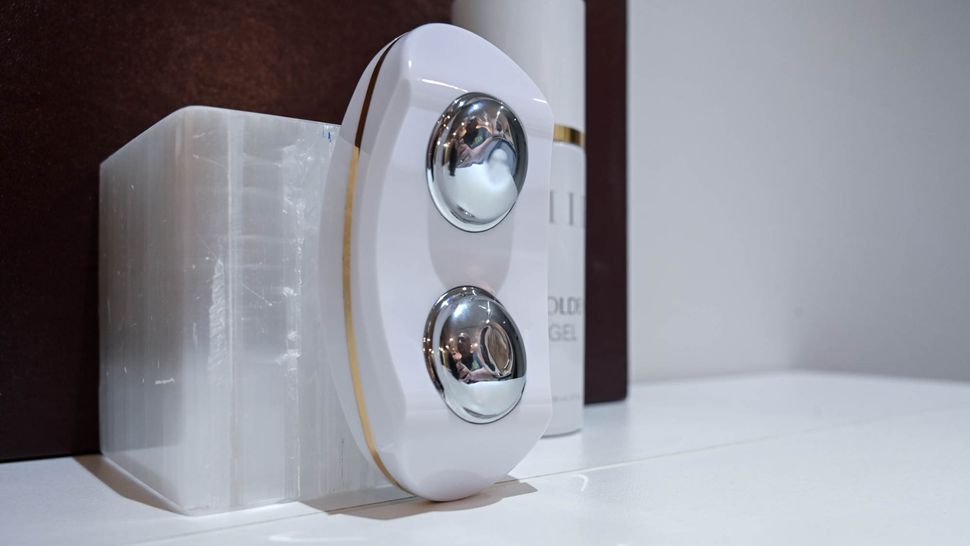 Turn the device over and you will find two 1 inch round silver probes. Lightweight and portable, the ZIIP GX series measures 4 x 2 x 1 inches, accommodating even the most delicate fingers.
ZIIP GX Series Technology
One of the slogans of the ZIIP GX series is "lit from within the skin". Sounds painful, right? Have no fear, my skin care darlings. Please put your cell phone in airplane mode so that we can talk technical.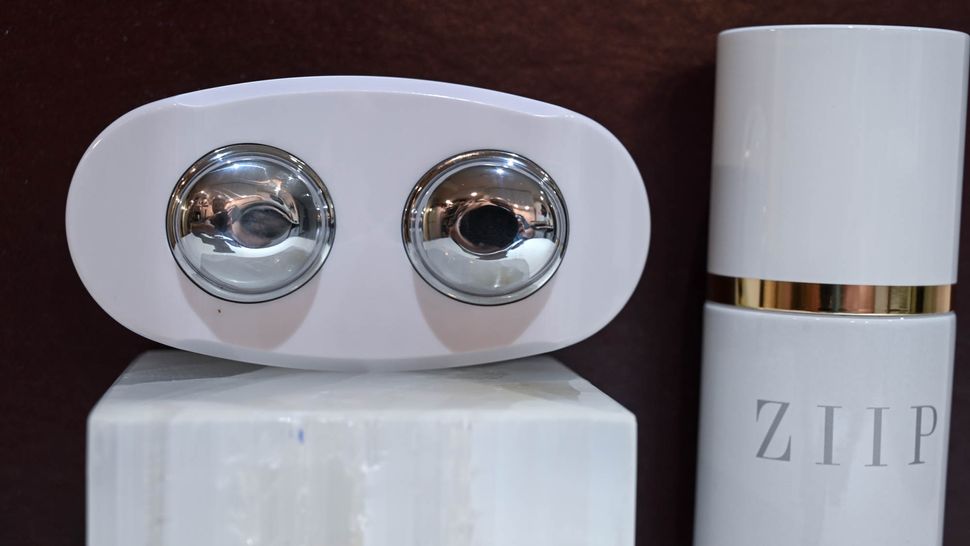 The Quick Set: Nanocurrent uses a very small electric current or a very short wavelength that easily travels to the deeper layers of the skin to stimulate the production of collagen and elastin. It's what we're all looking for because it's what keeps skin looking plump and fresh. Nanocurrent can also treat skin care issues like rashes and melasma. Microcurrent, on the other hand, uses a low level electric current to sculpt and firm or re-educate the muscles below the skin's surface. Think of it as a HIIT (High Intensity Interval Training) workout for your facial muscles, using painless tiny electrical zaps to push them and get them back to their best shape.
What sets the ZIIP GX series apart from other high-tech beauty devices is its combined use of nano and microcurrent. This electric duo is super efficient because you get the instant gratification of the microcurrent which lasts about 48-72 hours coupled with the cumulative effects of the nanocurrent. The more consistently you use the ZIIP GX Series, the greater the potential for lifted, sculpted, radiant, acne-free skin.
ZIIP Gels
Aesthetic electrical devices are nothing without conductors. That's where gloriously decadent ZIIP gels come in. Specially formulated with everything you need for a rejuvenated complexion and a brighter, clearer and more toned face, the 2.7 fl oz pump bottles of ZIIP gels come in three varieties: Gold, Crystal and Silver. Personalize your ZIIP diet by mixing and combining one of the gels with your ZIIP treatments.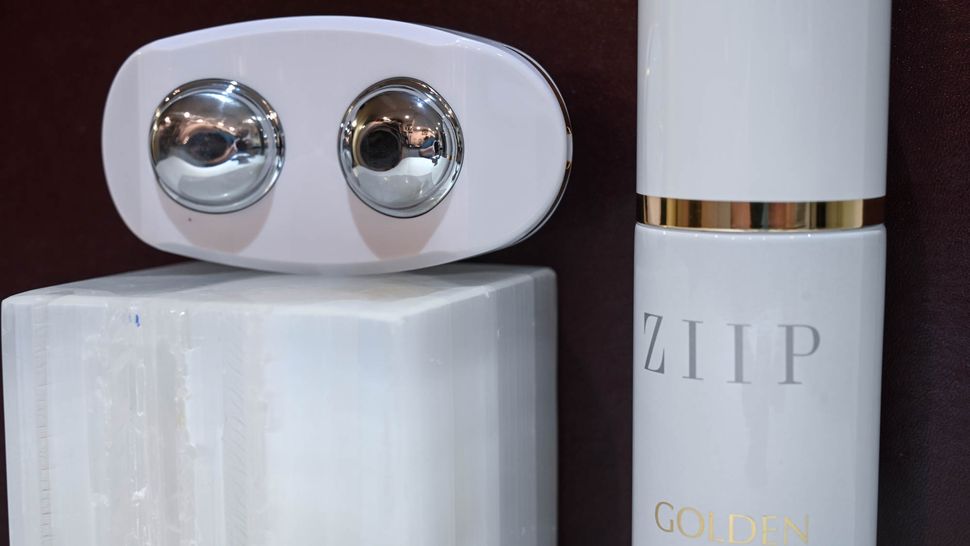 Golden Gel is the most premium at $ 129 and is optimal for filling imperfections (large pores or the famous 11) and for lifting, sculpting and firming. If you want an organic, silicone-free, oil-free, paraben-free, fragrance-free, vegan product designed to help your skin look radiant and glowing, get the Crystal Gel for $ 80. Do you have sensitive, acne-prone skin, but really need lightening and hydration? Silver Gel is your best bet and it only costs $ 50.
Each of the ZIIP gels is integral to the effectiveness of the ZIIP device, as not only are they packed with active ingredients designed to address a myriad of skin care issues and concerns, but they also help safely and efficiently delivering non-invasive nano and microwaves. of the ZIIP device through the skin to the muscles of the face, which gives the skin a lifted, toned and sculpted appearance.
ZIIP application
The new improved ZIIP application (ios and Android) lasted for two years and once I tried it I saw why. It's packed with expert-grade professional-grade facials, treatments and treatment plans, on-demand, in-home (or anywhere). And it's so easy to use.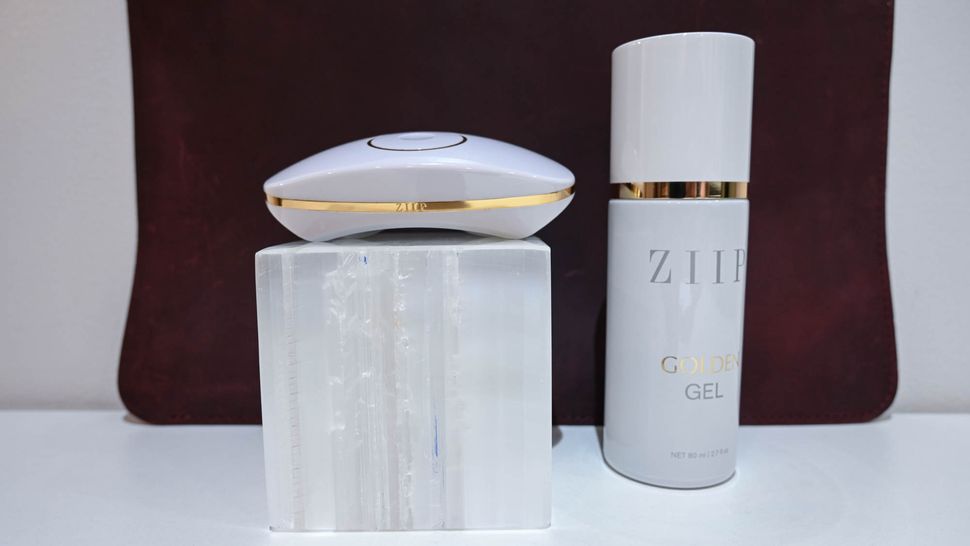 When opening the ZIIP application, the upper half of the screen displays the last treatment performed. Scroll right to see which treatment or facial is trending, and which treatment or facial ZIIP designer Melanie Simon has chosen as her choice.
Back on the opening screen, you will see the Complete Facials tab where you can access seven facials ranging in length from four to 14 minutes. Next to that is the Targeted Treatments tab which lists seven short, gentle treatments, two to three minutes each.
Click on each tab individually to select a skin care session – or should I say ZIIPcare -. Click the Treatments icon at the bottom left of the screen to access a cascading menu of all 14. There is also a Freeform tab that lists the facials and treatments you have the option to perform. as desired, as opposed to specific guided instructions from Melanie Simon.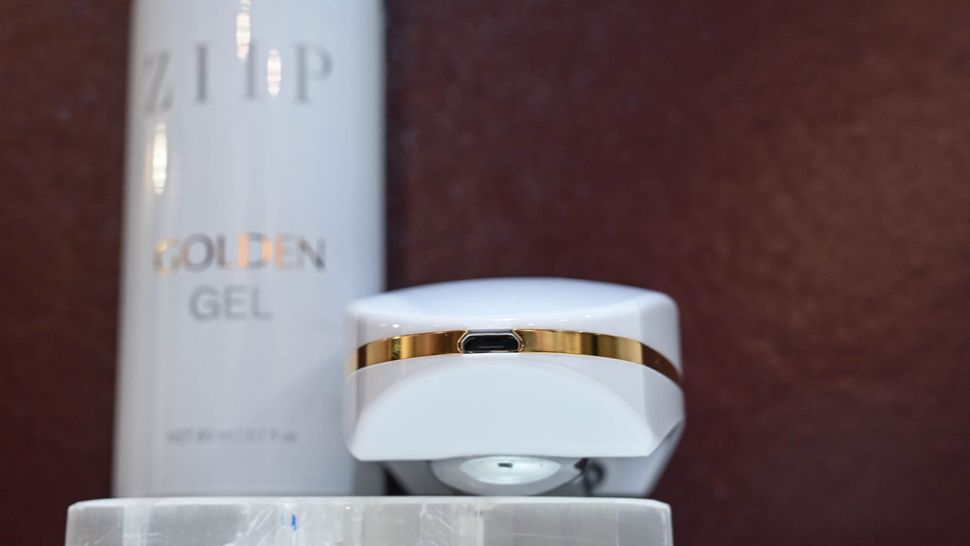 As if all that wasn't enough, the free ZIIP app also offers four treatment plans over multiple days (Event Prep, anyone?) And multiple weeks (Best skin of your life in 30 days? Yes, if it does. please!) your skin to the next level. And if you need to place a quick order to replenish your favorite ZIIP gel (s), you can do that from the app as well. All this for the price of FREE.
ZIIP GX Series Configuration
The ZIIP GX device is fully charged and ready to use. Just make sure you read the user guide first, because this device is some serious beauty tech. The user guide contains a lot of useful and necessary information, from caring for your device, to indications and warnings, to detailed protocols based on your skin concerns.
Download the ZIIP app from the App Store or Google Play Store, create an account and sync your ZIIP GX Series device via Bluetooth. You are now ready to treat your skin with expert-guided diets whenever and wherever you want.
ZIIP GX Series Performance
I started using my ZIIP GX Series machine three months ago and my skin hasn't looked so good since getting pregnant with my first child and taking prenatal vitamins.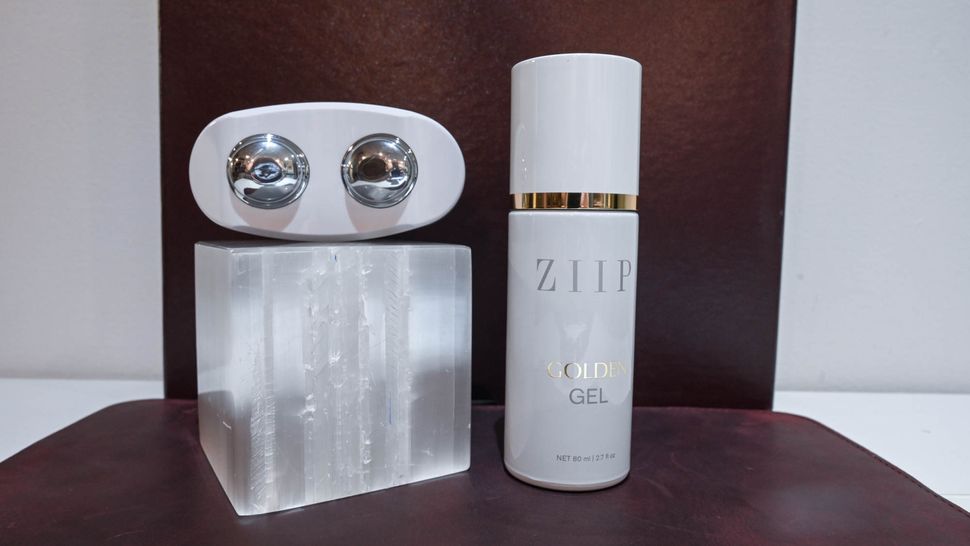 Not knowing what to expect, I chose to watch ZIIP Creator and Co-Founder Melanie Simon perform the preloaded 12 Minute Energize Complete Facial before doing it myself because I am a visual learner. and that I had never used such a technological beauty device or diet. -sophisticated.
I love the pace of Simon's tutorials, his patient and in-depth explanations of the how and why of ZIIP, what you should be feeling, how your facial muscles may respond, etc. Watching Simon slide the ZIIP device over her skin as she explains how and where to apply pressure and in what order and direction, as well as his expertise and knowledge of electrical aesthetics is an invaluable benefit of ZIIP.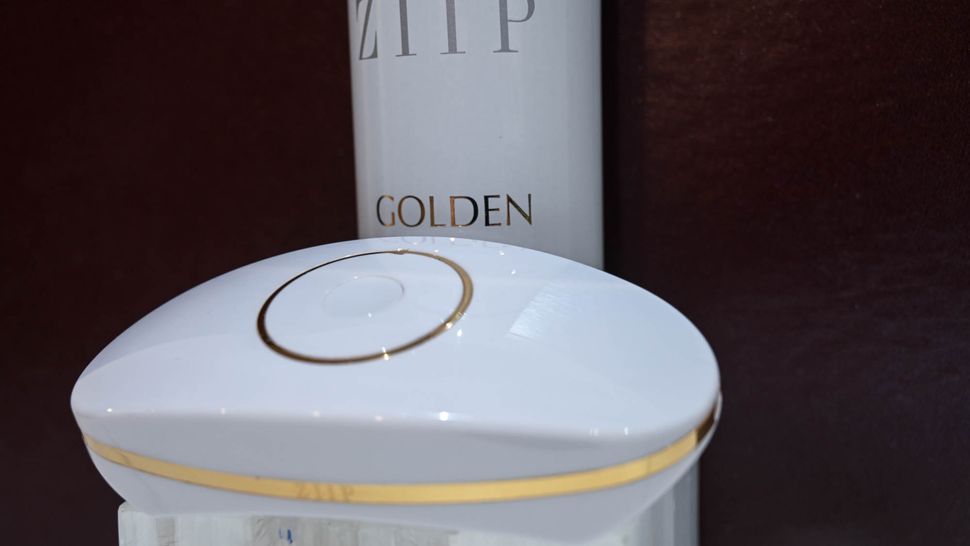 Ready to try out the IRL nano and micro current, I prepped my skin, cleaned my face twice, and dried it off with a clean towel. Then I used the droplet device to deliver a dose of collagen mist deep into my skin before applying a very generous amount (eight or nine pumps) of ZIIP Golden Silky Soft Gel (Conductive). Now was the time to start the Energize facial again in the ZIIP app, this time following Simon instead of just watching.
Let me tell you, this 12 Minute Facial was it! I liked to feel the current but it wasn't painful or uncomfortable. The ZIIP GX series device sits nicely in the palm of my hand. And I'm totally addicted to Golden Gel. He felt divinely luxurious, with lovely panties and an indulgent scent. Between the double-cleansing, the Droplette collagen mist, the ZIIP Energize Golden Gel facial treatment, followed by a Serious Skincare V-Sculpt red light treatment, my skin was gorgeous. INCREDIBLE.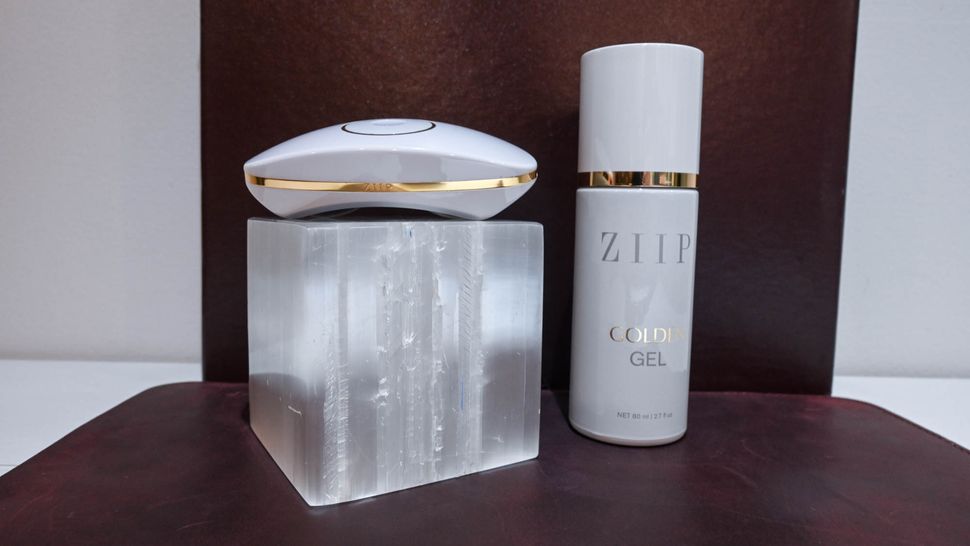 As with any skin care device, consistency is key. I use the ZIIP GX series two to three times a week to fully experience the benefits of the treatments and my skin really likes it. My complexion is acne free, brighter and more even. These damn 11s are much sweeter. I even stopped contributing to my Botox or Bust pot because the ZIIP GX series results are just plain good.
At the end of the line
I'll refrain from going into this further, but you need to understand this: At $ 495, the ZIIP GX series is one of those skin care devices worth the investment because of its proven potential to be very effective when used consistently. The ZIIP GX Series brings you portable, cordless, anytime, anywhere skin care treatments based on nano and microcurrent, developed and led by renowned electric beautician Melanie Simon.
If you are looking for a skin care device that continues to evolve and stay at the forefront of technological innovation in beauty, I highly recommend the ZIIP GX series.